Welcome Speech by Mr.Pramed Lekpetch, CTJ president on June 17, 2018 at the Opening Ceremony of CTJ – LJA Working Visit Program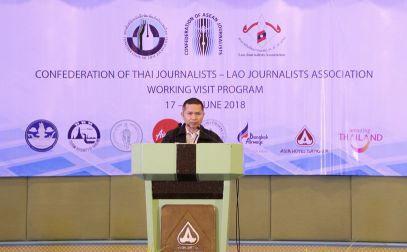 Your Excellency
Mr. Weerasak Kowsurat, Minister of Tourism and Sports
Friends from ASEAN countries and China,
Ladies and gentlemen;
On behalf of Confederation of Thai Journalists (CTJ) which consist of The Press Association of Thailand (Under The Royal Patronage Of His Majesty The King), the Thai Journalists Association (TJA), the Provincial Press Association of Thailand, the Provincial Journalists Association of Thailand, Entertainment Correspondents Association, the Sport Writers Association of Thailand,Mass Media Photographers Association of Thailand, the Economic Reporters Association, the Sport Reporters-Photographers Association of Thailand, and the Thai Broadcast Journalists Association (TBJA)
Welcome all of you to Thailand, the Land of smile. This is an important chance for you to get knowledge of economic, society and culture through the ASEAN Travel on the natural beauty Cultural and artistic diversity. It is a unique tourism destination of ASEAN. It attracts tourists around the world to experience the Eastern style.
As journalists, we play the key role as friendship bridges to connect people with understanding in each other. For ASEAN to move forward and stand up to the world's challenges, we must become one, we must understand one another, unify and cooperate while prioritizing people to people connections.
Finally, I would like to thank all the people and organizations that have made this Working Visit Program happen today. I would like to thank in particular, the Ministry of Tourism and Sports ,Tourism Authority of Thailand, Air Asia, Bangkok Airways, Bangkok Metropolitan Administration, Ch. Karnchang Public Company, and Asia Hotel.
Wish all of you a pleasant stay and fruitful experiences both in Thailand and Laos.
Thank you very much.