Welcome Speech by Mr. Thepchai Yong, CAJ president on June 17, 2018 at the Opening Ceremony of CTJ – LJA Working Visit Program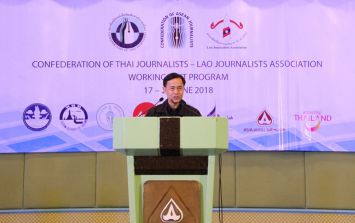 Your Excellency
Khun Weerasak Kowsurat, Minister of Tourism and Sports
Journalist friends
Ladies and gentlemen;
First of all, on behalf of the Confederation of ASEAN Journalists, I would like to thank Your Excellencies for according us the honour by being here for the opening ceremony of the Working Visit Program organized by the Confederation of Thai Journalists and Lao Journalists Association.
I also would like to extend a warm welcome to our journalist friends from the ASEAN countries and from China who are here to join the Working Visit Program.
This year is a very important year for both Thailand and Laos as far as tourism is concerned. While Thailand is celebrating its Amazing Thailand Tourism Year, our friends in neighbouring Laos also have their "Visit Laos Year". So this is a great opportunity for journalists from ASEAN countries and China to be here together to get to see and experience the charms and the beauty of two countries in one trip.
Both Thailand and Laos have their own unique history and culture. Their peoples are friendly and charming. And of course, the two countries also boast world-famous tourist attractions that are awaiting your visit.I am sure that your visit to Thailand and Laos will be an unforgettable experience.
This Working Visit Program is part of the activities under the Action Plan adopted by the Confederation of ASEAN Journalists at its General Assembly held in Bangkok early this year and are aimed at fostering closer cooperation among journalists and creating better understanding among the people in the region.
Confederation of ASEAN Journalists or CAJ is one of the oldest and most active regional media organizations in Southeast Asia. It was established as a forum for cooperation among ASEAN journalists in 1975, eight years after the Association of Southeast Asian Nations (ASEAN) was set up.
CAJ was conceived to play the role of a communicator to help people understand the diversity of region and forge regional cooperation. And it has played a significant role in serving as a bridge that brings together peoples of diverse historical and cultural backgrounds in the ASEAN countries.
CAJ membership now comprises national press association from eight of the 10 ASEAN countries with the Confederation of Thai Journalists holding its current presidency which rotates every 2 years among its members. Cambodia became its latest member in January this year and we are looking forward to welcoming our friends from Myanmar who have committed to joining CAJ in the near future. And, of course, CAJ cannot be complete as an ASEAN family without Brunei Darussalam. So we very much anticipate Brunei joining CAJ soon.
On behalf of CAJ, I would like to thank all the people and organizations that have helped make this Working Visit Program a success. I would like to thank in particular, the Ministry of Tourism and Sports,Tourism Authority of Thailand, Air Asia, Bangkok Airways, Bangkok Metropolitan Administration, Ch. Karnchang Public Company, and Asia Hotel, for their general support.
Finally, I wish all of you a pleasant and fruitful stay both in Thailand and Laos and very much hope that you will all go home with a fond memory of the trip which you can share with your audiences.