Welcoming Remarks by H.E.Mr. Savankhone RAZMOUNTRY, President of Lao Journalists Association at the Opening Ceremony of the CAJ Board of Directors Meeting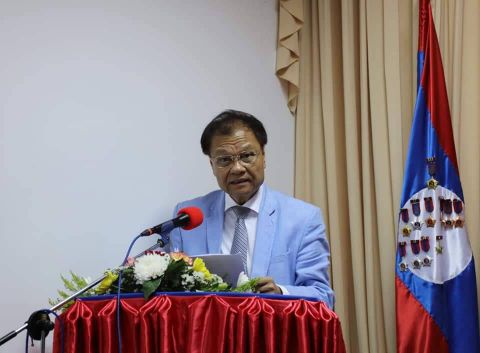 Welcoming remarks by H.E.Mr. Savankhone RAZMOUNTRY, President of Lao Journalists Association at the opening ceremony of the CAJ BOD Meeting 28th March 2019, Vientiane, Lao PDR
"Sabaidee – Good morning"…
Mr. Thepchai Yong, President of the Confederation of ASEAN Journalists
Distinguished ASEAN Media Representatives,
Distinguished guests,
Dear colleagues and friends,
Ladies and Gentlemen,
First of all, it is my great pleasure to have the opportunity to warmly welcome all of you and deliver on behalf of the President of the Lao Journalists Association (LJA), the welcoming remarks to the Board of Directors (BOD) meeting of the Confederation of ASEAN journalists (CAJ), held today in Vientiane, the Capital City of Lao PDR.
The Lao Journalists Association (LJA), is greatly honored to host this meeting for the first time, which is appropriate and timely for us to closely join hands in realizing our action plan 2018-2020, as well as the ASEAN Vision 2025.
May I take this auspicious occasion to express my sincere gratitude to all of you, dear colleagues, for your kind participation in our meeting today.
This Board of Directors Meeting of the CAJ is indeed very important and a great opportunity for all of us to share ideas on how we can fulfil our action plan for the 2018-2020 term which was adopted at the 19th General Assembly of the Confederation of ASEAN Journalists (CAJ) held early last year in Bangkok, Thailand.
During this Meeting, our confederation members will raise issues to share with one another in order to reach our destination, tighten the solidarity and connectivity among journalists and media organizations in the ASEAN Community, boost journalist training and experience sharing, and raise the CAJ's role in the region and the world.
The CAJ will also exchange views to promote the development of the regional press and the media's role and responsibility within the Community.
Regarding the Lao Journalists' Association (LJA), during these past years, it has also actively promoted and participated in various activities of CAJ projects such as training courses and study tours, including the Working Visit Program co-initiated and successfully co-implemented by Laos and Thailand last year. Its main purpose was to use Tourism as a means for enhancing closer cooperation between ASEAN journalists as well as between ASEAN journalists and its partners, and also for fostering better understanding among the people in the region and beyond.
We do hope that the great success of this Lao-Thai Working Visit Program would encourage other confederation members to initiate and promote similar activities in the coming years, in order to expand the dimension of the fruitful cooperation among all of us.
Dear colleagues and friends,
Ladies and Gentlemen,
Lao PDR is one of ASEAN Members where people enjoys its political stability and peaceful society. The national economy is in continuous growth rate approximately over 6.5-7% annually. Lao PDR owns national, cultural and historical tourism sites in its own characteristics, composed of many diversified ethnic groups, richness of cultures and uniqueness of customs. Lao PDR geographically is well-known as a landlocked country in Southeast Asia but economically named as land linked country which serves as a hub of transit point to its neighboring countries.
Strong economic growth was significantly boosted by the rollout of the Visit Laos Year program launched last year, 2018 when more than 4.1 million overseas tourists visited Laos, an 8.2 percent increase compared to 2017. Tourism generated revenue of more than US$755 million in 2018 alone. In 2019, which is designated as Visit Laos-China, it is expected that at least 4.5 million people will visit Laos, generating revenue of more than US$700 million.
It is hoped that through Visit Laos-China Year 2019, visitors from across the world would come to Laos and China to experience their natural, cultural and historical identities.
The Lao government has high expectations for the success of the campaign and is hoping for a surge in Chinese visitors. In 2018, more than 805,800 Chinese visited Laos, a 26 percent increase compared to 2017.
The year 2019 is particularly significant because it is the 10th anniversary of the comprehensive strategic cooperation partnership between Laos and China, and both sides are joining hands to build a community with a shared future.
The Lao government projects that more than 1 million Chinese will visit the country this year, and hopes to attract a total of about 4.5 million visitors from around the world.
Dear colleagues and friends,
Ladies and Gentlemen,
In this limited time, I would like to say that we, as media administrators, should encourage our media personnel to report more regularly on all of our priorities and plans, in order to promote the ASEAN Vision 2025, to raise awareness and deepen understanding among ASEAN people as well as people around the world through interesting and constructive content using different media platforms, including print, radio, television, and new media, altogether against fake news.
The information should flow to enlighten our people and to create mutual support and assistance among ASEAN member states. This will encourage officials and entrepreneurs to move forward the implementation of the blueprints as well as priority projects and to complete them in line with the plans adopted by our leaders.
With that, I would like to conclude by saying that the Lao PDR is very honored to host the CAJ's Board of Directors Meeting which I believe, would be crowned with very fruitful discussions and outcomes, and hope that you would enjoy good health and a pleasant short stay in Laos, during which time you can visit a number of interesting cultural and tourist sites in Vientiane.
"Thank you very much – Khob jai laiy laiy!"